Mount Palomar Winery
Winery Profile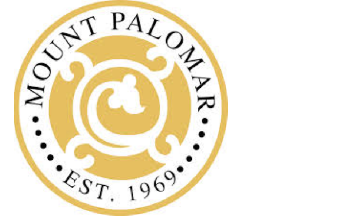 Address: 33820 Rancho California Road, Temecula, CA 92591
Telephone: 951.676.5047
Website: www.mountpalomar.com
Owned by: Louidar, LLC
Winery Established: 1969
Winemaker: James Rutherford
Current Production: 10,000 cases annually
Amenities: Tasting Room, restaurant, gift shop, outdoor bar (weather permitting), terraced patios, weekend tours, wedding and reception pavilion, brides' room, private event facilities, wine club, special events.
Food Services: Shorty's Bistro - hours: Mon-Thurs 11:00am-5pm (last seating 4:00p), Fri-Sun 11:00am-6:00p (last seating at 5:00p).
Hours:Open daily; Monday-Thursday 10:00am-5:00pm; Friday-Sunday 10:00am-6:00pm. Check www.mountpalomar.com for the most updated hours. Closed Easter, Thanksgiving, Christmas and New Year's Day.