South Coast Winery
Winery Profile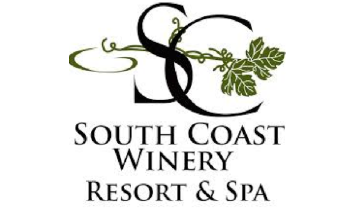 Address: 34843 Rancho California Road, Temecula, CA 92591
Telephone: 951.587.9463
Website: www.wineresort.com
Owned by: Jim Carter
Winery Established: 2003
Winemaker: Jon McPherson, Master Winemaker; Javier Flores, Winemaker
Current Production: 65,000 cases annually
Amenities: Home of the casually elegant Vineyard Rose restaurant, beautiful tasting room and breathtaking gardens, popular wine club,upscale gift shop, 76 luxurious villas, 50 unit new all-suite hotel tower, plus full service day spa & salon, meeting space, music and concerts, special events, guest speakers, classes & so much more. Judged Best Winery in the State of California for the third time in the past five years, South Coast Winery Resort & Spa is a must-see destination on your next visit, and the perfect location for your wedding, meeting or offsite retreat.
Food Services: A casual, yet elegant, dining experience awaits you in the Vineyard Rose restaurant which serves up breakfast, lunch or dinner. Catering & exceptional meeting and banquet facilities also available.
Hours: Tasting Room open 10am to 6pm daily; Vineyard Rose restaurant open for breakfast 8:00am to 11:00am Monday-Friday; brunch 8:00am to 3:30pm Saturday-Sunday; lunch 11:30am to 3:00pm Monday-Friday; dinner 5:30pm to 9:00pm daily; happy hour 4:00pm to 5:30pm Monday-Friday.